From Manchester, with Love – Part Two
Bonne nouvelle – les retours depuis l'Europe sont désormais gratuits!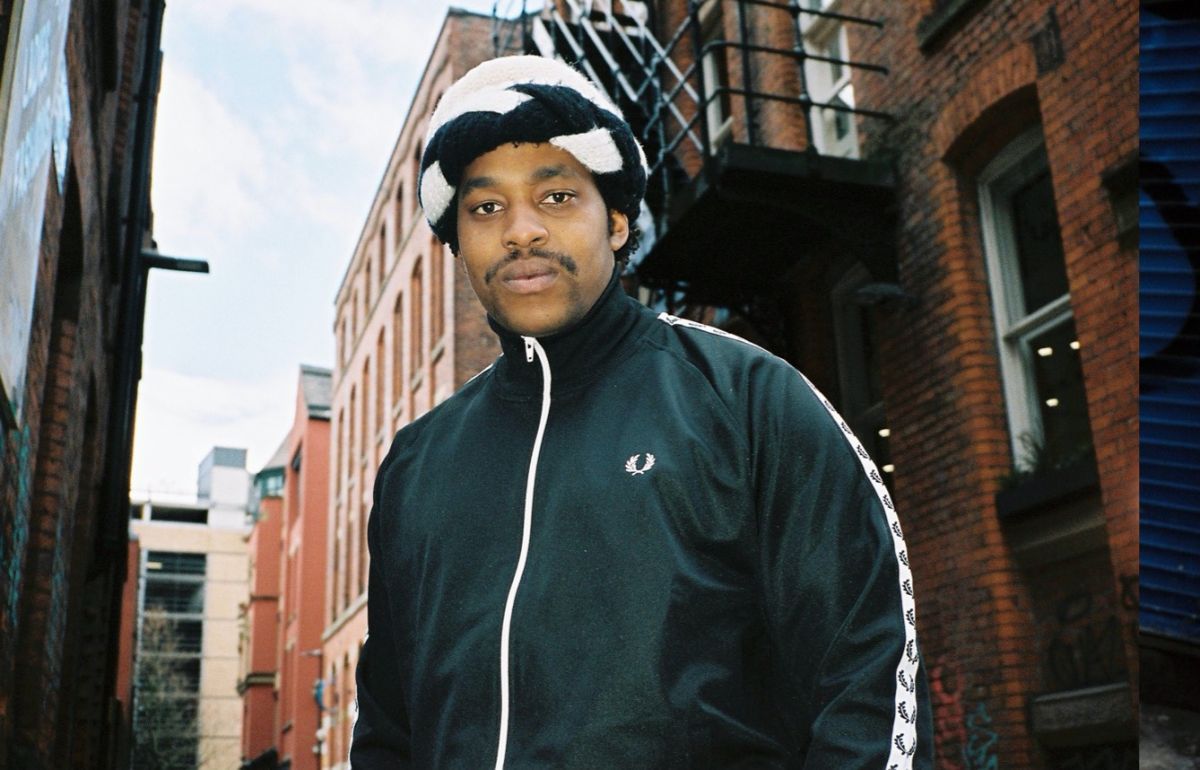 As we open the doors of our new Manchester shop, we catch up with three local musicians and business owners, to chat all things Northern Quarter and what makes this tight local community so special.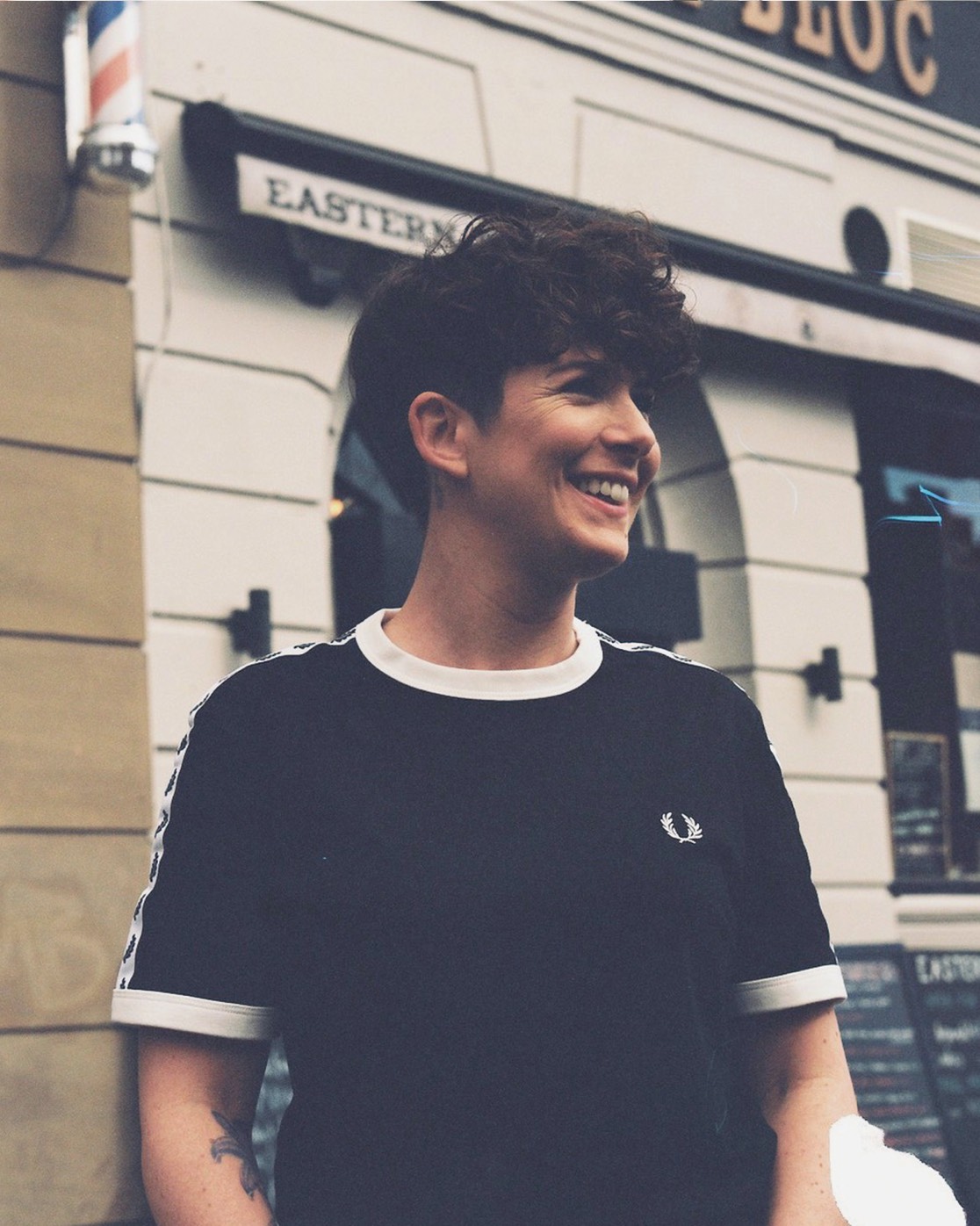 Gina Breeze, DJ & Producer
Talk us through your own musical journey….
My musical journey started as a resident DJ for SpeedQueen in Leeds. I knew I wanted to make my own music, but had no idea how. I started making mashups and edits, and got stuck into learning Logic and all its capabilities. I had my first proper release in 2015 with NYC based Get Up Recordings. By this time I was living in Manchester, playing for HomoElectric and really found my feet as an artist. I think I was lucky to play for nights like SQ and HomoElectric, they are similar in that the residents are the heart and soul of the parties. They don't rely on big headliners. The residents know the crowd and the crowd trusts that. Probably my most successful release to date was with Luke Solomon / Derrick Carter's Classic Music Company. The After Dark EP felt like the best music I'd ever made, well it was. I started trying to collaborate as much as possible, working with Manchester based record labels like Sprechen, and making a track with an original vocal from the amazing Danielle Moore (Crazy P).
What's the first thing you think of when you hear the words 'Manchester' and 'Music'?
When I hear the word 'Manchester', I immediately associate this with music, the vibe. I have always loved this city, even before I came to live here 10 years ago. There's an undeniable feeling in Manchester, the people are warm, there's a real community and hard working spirit, a togetherness and a passion for life! All this is centred around a love for music, art & pushing the creative boundaries.
Tell us about your favourite ever gig in Manchester?
I think my favourite ever gig in Manchester would have to be playing at the first HomoBloc in 2019. Mayfield Depot is such an impressive venue. I loved playing at The Concourse, that was one of my favourite stages because you're kind of at eye level with the crowd. It almost feels like a club, but you're still in a huge warehouse. The build up to HomoBloc was unreal, genuine excitement. There was definitely something in the air that day. You had to be there. I played the warm up set with Will Tramp, we set the scene for what went on to be a big rainbow LGBTQ+ mark in Manchester clubbing history. 10,000 colourful souls under one roof. Celebrating all that is queer, passionate and real in Manchester. Such a huge, diverse lineup. That event will be remembered forever. Can't wait for the next one!
Where's the best place to discover new music in the NQ?
You have the obvious, Piccadilly Records, Eastern Bloc, Vinyl Exchange, picked up a few bargain basement jams in Clampdown Records too. You really are spoilt for choice in NQ. Aside from record shopping though, I think you have a chance of seeing some of the best DJs in NQ on the weekends. Cottonopolis have the best of the local scene on the regular. You also have Ducie Street Warehouse which is a super slick venue playing laid back vibes. This is just outside NQ but I have to mention the mighty Freight Island. Try and beat that place for atmosphere & top quality music. Mixture of DJ's and live acts with a heavy local talent rotation.
How do you feel about the new Fred Perry store opening up in the NQ?
I think the Northern Quarter seems a perfect fit for the new Fred Perry store! After all the closures in retail of late, this is a real positive and a strong choice for the brand. I remember my first trip to Manchester and coming to Affleck's Palace. I'm from Barnsley in Yorkshire & believe me, there is nothing like this around there. I was in awe of the fashion, band tees, goths, vintage pieces. Music and fashion is the beating heart of the Northern Quarter. I'm sure this will be a great new home.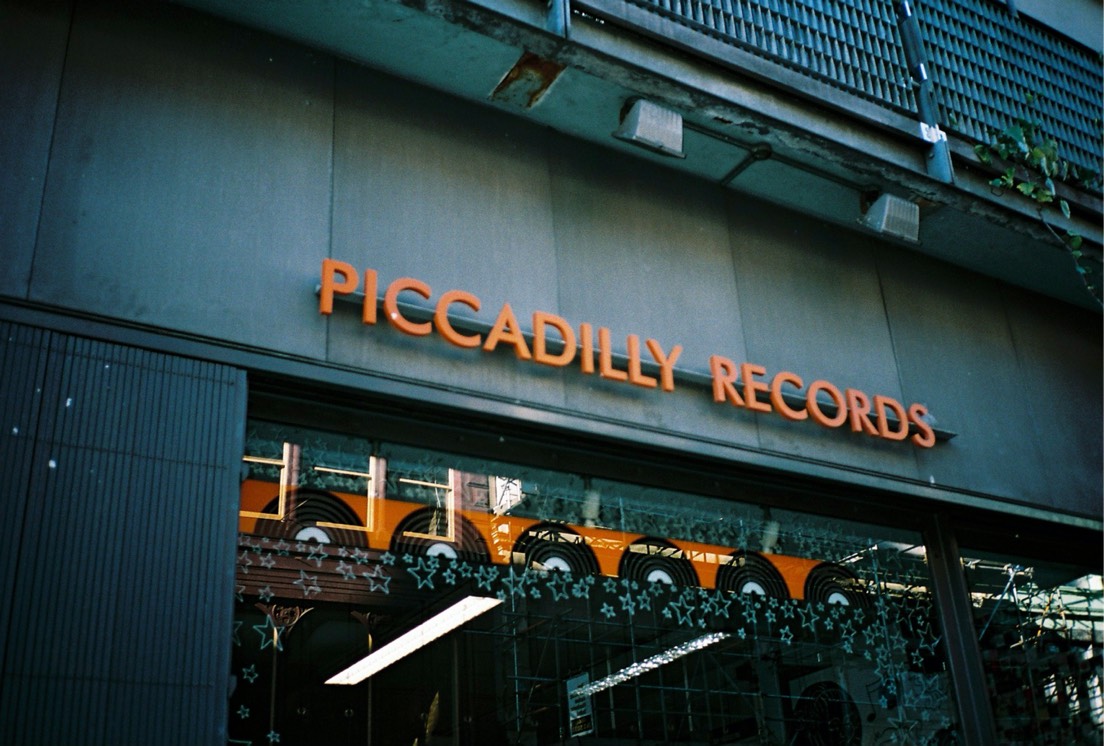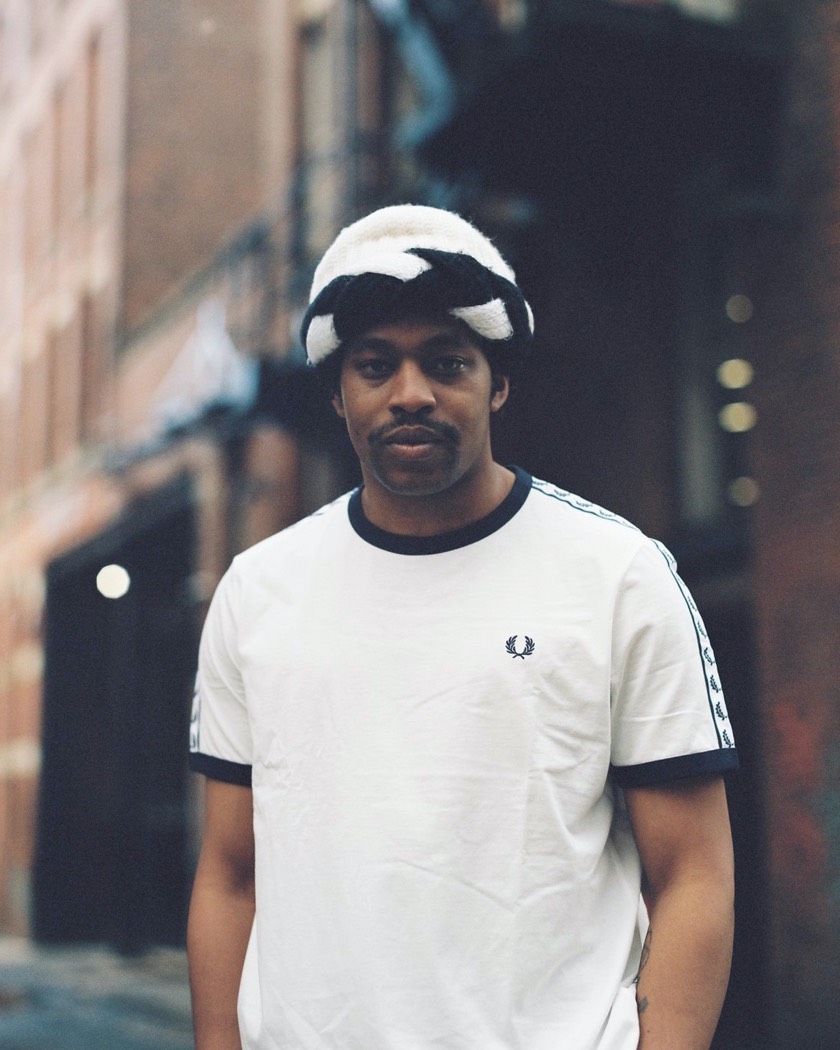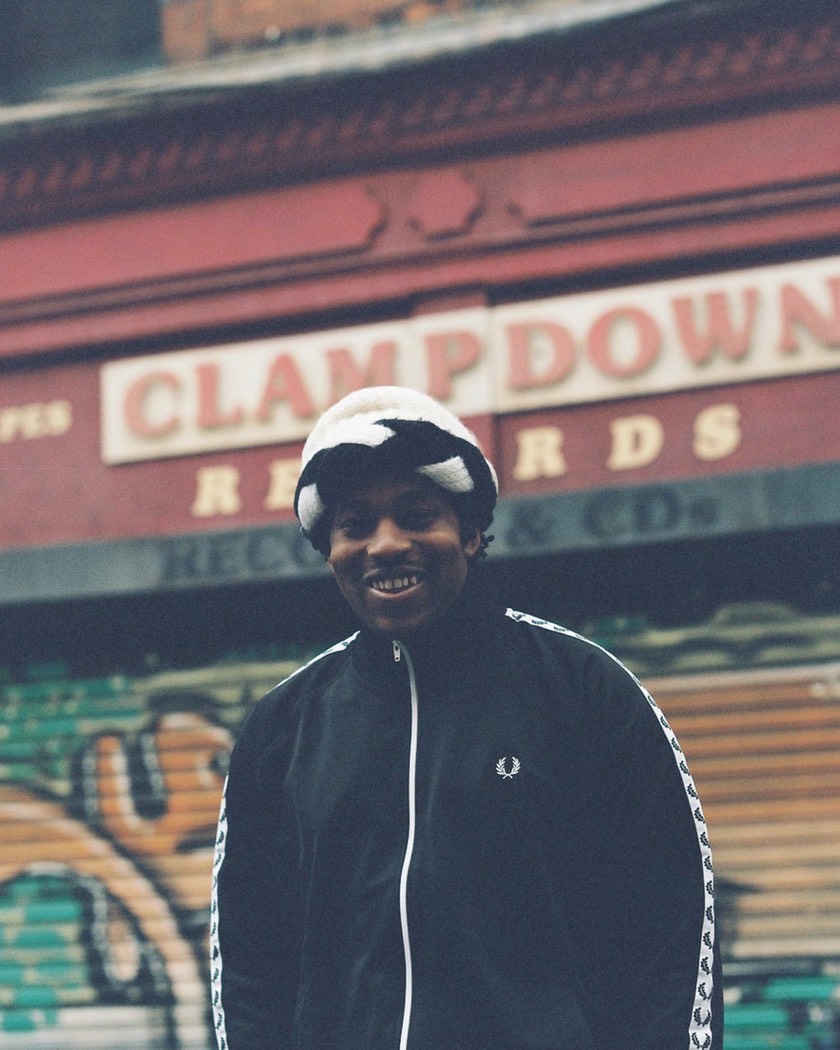 Ladi Kazeem, Vintage Band Merch Seller
What's the first thing you think of when you hear the words 'Manchester' and 'Music'?
Madchester
What part has Manchester played in your own musical journey?
My business was born in Manchester in the middle of the NQ on Stevenson square and music's at the heart of what I do, so I'd say everything. From the bands I listen to day to day to the merchandise I sell. I'd argue in my world I'm known globally for my ability to unearth original band T-shirts and music-related relics, and the majority of what I find is related to Manchester bands from the late 80s early 90s such as Stones Roses, Oasis, Joy Division/New Order and the Happy Mondays. I've travelled the world selling and displaying my finds and there's a lot of collectors with Manchester related vintage merch because of my brand.
Tell us about your favourite ever gig in Manchester?
There's been so many. I remember seeing Ian Brown for the first time when I was 14 at the Apollo with family friends. At the time I'd argue he was at his peak as a solo artist. I remember he'd just done a 10 second cameo on Harry Potter prisoner of Azkaban and that was my hook to get my mother to allow me to go and watch him live for the first time. At times I was engrossed in his music and I'm fortunate to have seen him on a number of occasions since then.
How important do you think the Northern Quarter is in terms of Manchester's musical scene?
Extremely important. Other than the major venues, where else are we going to hear live music? It's a centralized hub away from the hustle and bustle of market street, an area that combines so many different scenes and cultures and a lot of the creativity stems from societal dysfunction and the city's industrial and working-class roots.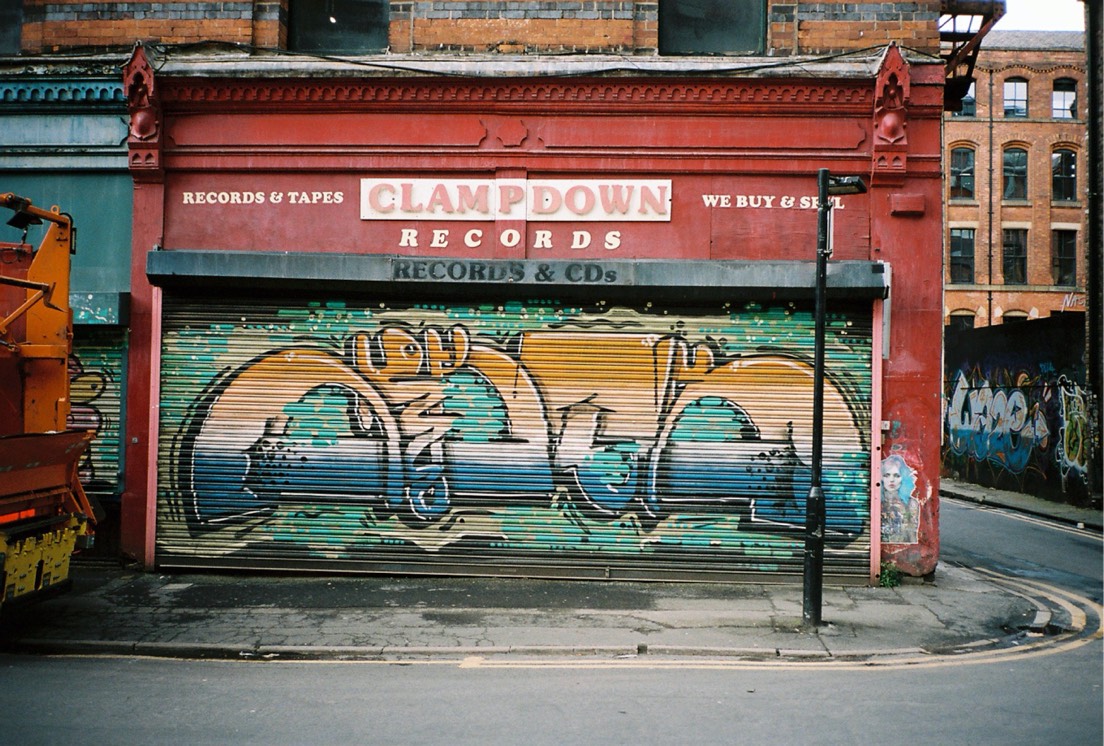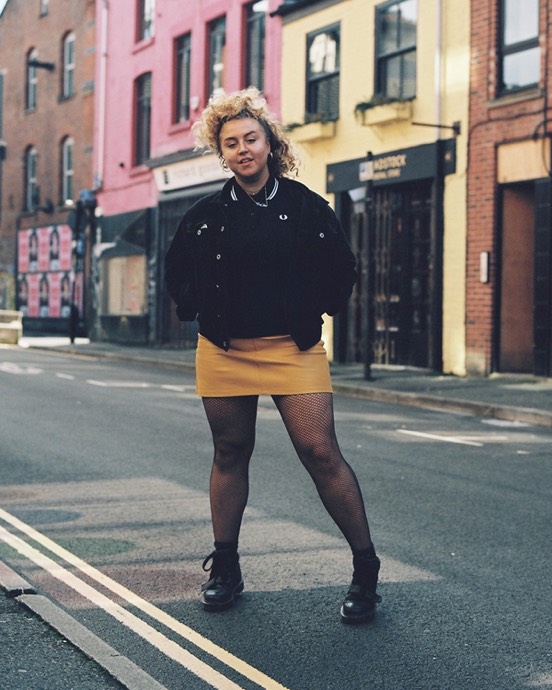 What's the first thing you think of when you hear the words 'Manchester' and 'Music'?
I think of no limits. I think of not giving a single f**k and the passion that comes with it. I think of raving under motorways and the songs my mum used to play in the kitchen. I think of community, a spirit and connection that is unlike any other.
What part has Manchester played in your own musical journey?
Manchester took me in. I met family there, people who had the same fire in their belly as me to get whatever it was I was feeling, out there. It's such a creative city and I feel all the creatives always gravitate to each other, whether it's from the love of a good party, or the love of good music. The support has always been there for my music as I feel there's always a bit of Manchester in the subjects of my songs, or a story from my days. I reckon the people like that, I got that from the olders, always representing everywhere we go, I'm lucky they've always looked after me and all the up and coming talent, which is a tradition we can't lose.
Why do you think Manchester has produced and inspired so many amazing musicians?
Something in the water mate, honestly. Someone must've dropped a load of drugs in the canal in the 70s and it's just gone mental from there. It's a special place man, the rough edge the city has, there's attitude here, a bit of charisma, proper dead cool people who don't just shout about it but take the Mancunian pride everywhere they go. We've always struggled here, it's never been easy pickings and that just fuels our fire… there's always stories and real stuff happening so all the feelings and thoughts go straight into the music. There's no box either, no one's bothered about dog eat dog, we just make wicked art and have a buzz.
How important do you think the Northern Quarter is in terms of Manchester's musical scene?
Like I said, creatives gravitate together in this city, and the NQ in my eyes has always been the hub of that creativity, whether it's at a bar, club or sitting outside Eastern Bloc in the sun with a few tinnies, you're always gonna see someone and you're always going to end up collaborating. It's ours, we feel so protective over it, I know I do! We've lost so many sick venues and bars. I really hope it's going to get more investment for the culture, not just turn into posh coffee shops with people with no manners.
Where's the best place to discover new music in the NQ?
Eastern Bloc is mega, always a sick selection of music and the occasional event – nice little seating area outside with a bar, proper good. To catch an earlier show – Inner City Waves at Band on the Wall for local new talented musicians. Kraak Gallery for cheap beer, Night & Day is absolutely mega, as is The Castle. If you've missed your last train home, go to Soup Kitchen and Mint Lounge till the early hours. Bound to find something you like! I've recently discovered the basement in Wilson's too, very cool 1920s looking space.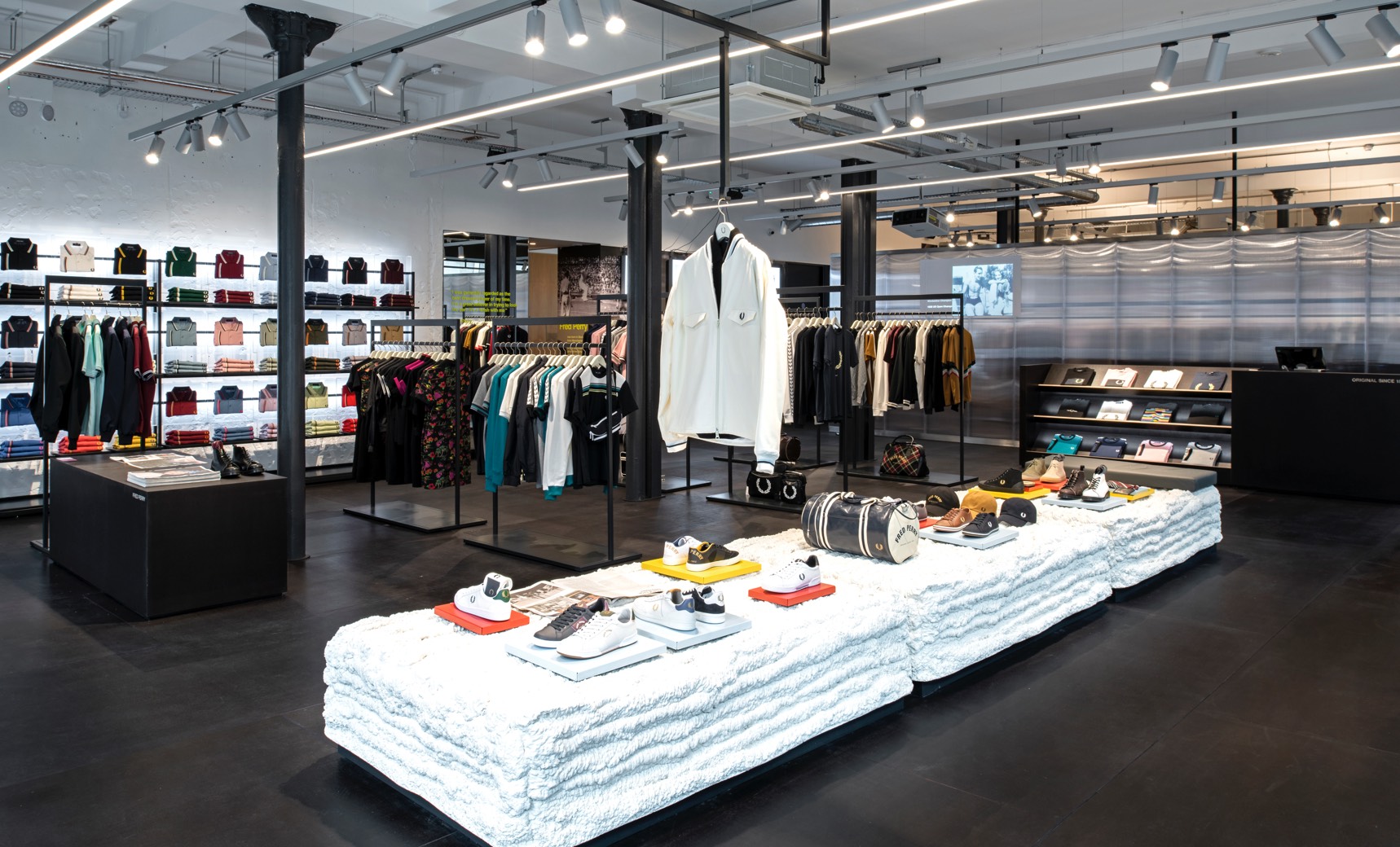 Visit the new shop at 41-43 Oldham St, Manchester, M1 1JG.
From Manchester, with Love – Part Two
4.9
(98%)
32
votes